Frequently asked questions - FAQs (click on a question for the answer)
What is Gig Buddies?
---
Gig Buddies is a befriending program that tackles social isolation for adults with mild to moderate learning disabilities and/or autism. We match adults with disability with volunteers, both of whom share similar interests, so that they can go to events together regularly.
---
How old do I need to be?
---
Gig Buddies is for people 18 years old or older.
---
Who operates the Gig Buddies project?
---
The Gig Buddies project is an initiative of Assisted Community Living Limited T/A ACL Disability Services, an organisation with over 50 years' experience assisting adults with mild to moderate learning disabilities and autism. ACL Disability Services are based in McMahons Point, Sydney. The Gig Buddies initiative started in Brighton, England. The project was first launched in Australia Sydney in 2015 ACL Disability Services and the Gig Buddies project are registered in Australia as NDIS providers (Registration Number 4050003928) and registered with the NDIS Quality and Safeguards Commission (Registration ID: 4-3LLK-1912)
---
Who is the Gig Buddies program for?
---
Gig Buddies Sydney supports adults with mild to moderate learning disabilities and/or autism.
---
How do buddies find out about the project?
---
Word of mouth, social media, presentations, TV or radio appearances and magazine articles are some of the ways buddies have found out about the project.
---
Do volunteers receive training?
---
Yes, all volunteers go through our training program.
---
Are volunteers checked?
---
Yes, volunteers must complete an NDIS Worker Screening Check. We also accept police checks, if no longer than 3 years old. Click here for more info
---
Can you provide a volunteer for a one-off gig?
---
Sorry, no. Gig Buddies is all about building longterm friendships and expanding an individual's social circle. Our matched buddies and volunteers are encouraged to catch up for a gig or an event at least once a month for a year. Please note, the Gig Buddies project also hosts their own social events that are open to all signed up participants and volunteers. Attendees do not have to be paired with a buddy to come to these events, but they must register (and pay for tickets, if required).
---
Tell me more about the expectation of the volunteer…..
---
Once paired up we request that volunteers commit to the program for 12 months. Within that year we recommend that buddies catch up for approximately 6 - 10 hours per month. Everyone who joins the Gig Buddies project has different expectations; availability and personal commitments are taken into consideration and we try to make a buddy pairing work for all parties. We appreciate that 'life can get in the way' and that no one keeps a quota of how often they catch up with others. 6 - 10 hours a month is a recommended estimate; while consistency is key (agreeing to catch up every third Saturday of the month, for example) we appreciate that every buddy and volunteer is different in terms of availability and personal commitments.
---
It sounds like a free support worker….
---
Gig Buddies is a volunteer based buddying program, not a substitute for paid support. Gig Buddies is about friends catching up regularly and having fun. We emphasise that the volunteer benefits just as much as the person with a disability.
---
I've submitted my application. What happens now?
---
Thank you! We appreciate you taking the time to submit an application form. We'll now begin the pairing process - as described in the video below: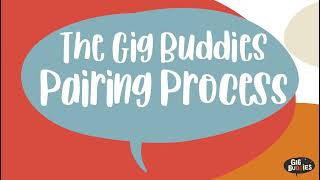 ---
How long before I get a gig buddy?
---
Gig Buddies prides itself on being a high quality service where we take time to get to know everyone. We match buddies based on mutual interests while age, gender and location preferences are also considered. Unfortunately we never stipulate a timeframe when it comes to making a match. Additionally, we never guarantee that we will find everyone a buddy.
---
What if I am waiting a long time?
---
Once you've signed up, you are part of the Gig Buddies community and you're welcome to attend our Gig Buddies hosted social events - whether you're paired up or not. Social events are a great way to meet other buddies, to increase social circles and to enjoy new experiences.
---
Tell me about the group social events you organise…..
---
As well as pairing up two buddies to go to events together, we also organise regular Gig Buddies socials. These are for all paired or un-paired registered buddies and volunteers. All information about our upcoming social events is shared on Facebook, Instagram, Twitter and via our weekly newsletter - enter your email address at the bottom of the page "join our mailing list" to sign up.
---
Who decides on the match?
---
The Gig Buddies team speaks with everyone who submits an application. This enables us to make an informed decision about who to match with who. Personal interests, age, gender and locality are just some of the factors we take into consideration when matching buddies with volunteers. We want both participants and volunteers to enjoy catching up together once or twice a month, so we take care to find a suitable buddy.
---
You've found me a buddy, what happens next?
---
Once the volunteer has attended training and submitted a police check or NDIS Worker Screening Check and their personal references, they will be introduced to their buddy. A Gig Buddies' staff member will also be at the meeting. During this meeting contact details will be exchanged and Buddies will also decide on the type of events they'll attend, how they'll communicate, how they'll travel etc. After the buddy and volunteer have been introduced, a Gig Buddies' staff member can also join them at their first gig.
---
What if the pairing doesn't work out, or I can no longer volunteer?
---
That's totally fine. If it doesn't work out, or your circumstances change, we'll offer support to see if there's something we can do - and that may include finding a new buddy.
---
How much does it cost to go out to a gig?
---
Both the buddy and volunteer pay for their own tickets and travel costs; eligible gig buddies can take advantage of the NSW Companion Card, which allows the participant's volunteer to attend select events free of charge. For more information visit www.nswcompanioncard.org.au
---
What about the NDIS?
---
Assisted Community Living Limited T/A ACL Disability Services & Gig Buddies, Gig Buddies Central Coast parent company, is a registered provider with the NDIS. All participants (adults with mild to moderate learning disability and/or autism) who sign up are required to include Gig Buddies Central Coast within their NDIS plan. We charge participants an administration fee which is the equivalent of *three hours per month, either from Capacity Building or Core Support. *the 3 hours per month is not the number of hours spent with the volunteer. For more information about fees and line items, click here
---
Is it all about music?
---
No. Everyone is different and, when you sign up, you can tell us what your 'gig' is. This could be mixing it in a mosh pit, watching a favourite sports team, bush walking, going to the theatre or checking out local art galleries. Whatever your interests are, we will try to find you a buddy who wants to do the same things as you.
---
I can't commit to volunteering, can I help in other ways?
---
Yes, we're always looking to improve and grow the project. To both individuals and corporate organisations, our door is always open and we're always keen on a conversation about gifts in kind. As a not for profit we're always grateful for any financial contributions. Our donation page can be found here.
---
Are you a user-led organisation?
---
Yes. All participants are invited to be connect with the Gig Buddies advisory team, Soul Fly Band, who advises on the initiative and links with management at ACL Disability Services. Check them out at their web page here.
---
How do buddies arrange gigs?
---
Buddies communicate in a manner of different ways: text/SMS, phone calls, emails, social media or via a support worker/family member. Every pairing is different when it comes to connecting with each other and arranging events.
---
How do I know what's going on with Gig Buddies project?
---
We send out a weekly e-newsletter that has all our latest news and details about our up and coming social events. Buddies and volunteers can also follow us via Facebook, Instagram and Twitter. To sign up for our weekly e-newsletter, enter your email at the bottom of the page at "join our mailing list" (see "join our mailing list")
---
How can family members, carers and support workers help?
---
One of our biggest challenges is that it's sometimes difficult to make sure there's good communication between volunteers and buddies. When buddies meet for the first time contact details are exchanged; from time to time we call on family members and/or support staff to assist with any logistics when it comes to communicating or planning around attending a gig.
---
Are you only operating in Sydney and the Central Coast?
---
Yes, but we know the Gig Buddies program would work in other towns and cities within Australia. Click here to find out how Gig Buddies can be rolled out to other parts of the country.
---
Do volunteers have to pay for their police checks?
---
The NDIS Worker Screening Check is free for volunteers. Click here for more info
---
Who decides what events buddies go to together?
---
The gigs are decided by the buddy and volunteer. By "gig" we mean it could be watching live music, theatre or sport, meeting up for a chat and coffee, going to the movies, or going for a walk. The possibilities are endless!
---
What is included in the volunteering training?
---
During training volunteers will learn about the following: The project history and why we need projects like Gig Buddies; about learning disabilities; their role as a volunteer; boundaries, safeguarding, confidentiality and"what to do" in certain scenarios; the relationship between buddy and volunteer and more. We are confident that after training, volunteers will feel comfortable supporting and befriending an adult with a learning disability and/or autism when out and about. The Gig Buddies team will always be on hand to provide support to both volunteers and participants.
---
Are there any out-of-pocket expenses for volunteers?
---
Like you would in your other friendships, participants and volunteers pay for their own tickets, food, drinks etc. In the case where a participant has a NSW Companion Card, volunteers may get a free or heavily discounted ticket. Alternatively, paired buddies can choose cheap or free events. Both buddies and volunteers are in their rights to set a limit to how much they want to spend. This will be discussed during the pairing meeting, and buddies and volunteers can talk to Gig Buddies' staff at any time if money is an issue. The Gig Buddies team takes care to pair you with someone who wants to do and go to the same things as you.
---
Where in Australia is the project?
---
The project is currently in Sydney and the Central Coast NSW. The Gig Buddies Sydney project covers these Sydney areas; 1 - North West Sydney
2 - Northern Suburbs
3 - Northern Beaches
4 - North Shore
5 - Sydney CBD
6 - Eastern Suburbs
7 - Inner West
8 - South Sydney
9 - Western Sydney
10 - South West Sydney
11 - Greater Western Sydney If you are outside of these areas please contact us, as we may have volunteers or participants in your area.
---
What if something goes wrong while I'm out with my buddy?
---
The Gig Buddies project will uphold the right of its participants to live in a safe environment and receive appropriate care services based on best practice principles. All Gig Buddies' volunteers are expected to report all incidents (accidents, injury, assaults etc) to a Gig Buddies' staff member. In the event of injury to a participant, volunteers will take all appropriate actions to remove the participant from harm. Gig Buddies' volunteers must also report any 'near misses' (being a potential incident that did not arise). Documenting this information will be used for the purpose of minimising future risk of incidents of the same nature. The Gig Buddies team will review all reported incidents and take appropriate actions to correct the situation to ensure that participants are not exposed to any actual or potential danger. This includes (but is not limited to) critical incidents as a result of a participant's behaviour, a near miss accident, a service practice failure, or equipment failure.
---
Do volunteers need to have COVID-19 vaccinations?
---
Yes. According to the NSW Government Public Health Order (PHO); Anyone providing services to a person with disability will need to have at least one dose of a COVID-19 vaccine by 25 October 2021, and a second dose of a COVID-19 vaccine by 29 November 2021. In line with the new announcement, Gig Buddies' volunteers are regarded as a 'person providing disability services' and, as such, all active volunteers - bar those with medical exemptions - are required to be vaccinated in order to continue with the project.
---
---